Hey everyone,
No, I'm not dead. Thankfully. I fought that nasty cold and then to reward me, another cold decided to come party. Luckily, I've been cold free for the past two or three weeks. Phew. Let's hope it continues, (keeping my fingers crossed.)
Anywho, I decided to celebrate the upcoming spring by participating in the "15 Days of Welcoming the God" Blog Party hosted by
Confessions of a Country Witch
and
Domesticated Gypsy
.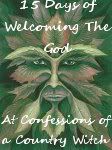 I am learning about the God in my new Circle now and I'm really surprised by how connected I am to him. I haven't focused on a male deity for...yea, don't think I ever really have. So, it's been a breath of fresh air. Anyway, let's all visit the party for some much needed masculine energy.
I'm doing Ostara. Though my post isn't focused entirely on the God. AND, I will be doing a giveaway for it. So stay tuned.